Discover more from alohomora
Unlocking magical insights
Intellectual Curiosity
My journey in self study
Hi Everyone, 
Happy October!! Insane how quickly this year is flying. I hope you are all finding time to rest and decompress - I've been able to indulge in a few getaways, and spent most of September on the East Coast. I found the change of pace to be absolutely necessary. Today's focus will be on continuing education. Let me know your thoughts. I started this newsletter because I wanted to bring structure to ideas I found compelling, but that didn't fit into the scope of my everyday work. The more feedback, the better!
- Morgan 
Recently, I found myself missing school. I loved absorbing lectures, enjoying the structure of classes, and taking colorful notes... I missed the active acts of learning and studying. Last month, I took a vacation, and was able to disconnect (from work), but reconnect with explicit learning - that is, I made a conscious and deliberate attempt to master material. I'm always learning on the job, but that learning is more implicit - a byproduct of my day-to-day tasks.
This summer, I tried to take classes that I didn't have time for in college. Though I studied engineering in school, my true passions lie in the rich disciplines of art history, psychology, design, history, and literature. These were the areas I sought to learn more about this summer. In doing so, I realized:
Like creators in the passion economy, educators can achieve intense loyalty and fame at small scale, especially if they offer expertise in a hyper-specific area (for example Nadia Eghbal, in her new book on open source (Working in Public)). As educators (authors, professors, podcasters, etc.) gain prominence, they will seek to deliver their knowledge directly to learners. New continuing education infrastructure is required to facilitate this at scale.
As Eghbal states in the conclusion of her book (page 211),
Our relationship to content matters less than our relationships to the people who make it.
The paradigm shift underfoot, which Eghbal (and others) have keyed in on is one toward intimate virtual communities helmed by educators with a specific knowledge base. The Post-Social Media report by Co—Matter, states:
Amidst all the noise, our need for safe and productive virtual spaces where we can gather together, communicate, exchange ideas, build new movements, and support each other has never been greater.

"Post-social media" is about the future of building these digital communities...refocusing our attention, moving from open to semi-private platforms, engaging in hyper-niche communities, synchronizing our experiences, participating in the value creation of tools and platforms, and expecting them to take a stand on issues that matter. 

The next decade will be defined by conscious consumption… Designed to stay niche, not to scale, the success of these [post-social media] platforms will be based on personal development and identity effects: the ability of people to build deeper connections and stronger identities the more they engage and participate. 
As I spent my summer learning, I came across a number of virtual spaces for continuing education (education provided for adults after they have left the formal education system), though few were comprehensive. In many other industries, workers have been able to move away from traditional forms of employment toward more flexible work (see the passion economy article linked above for examples of this), yet many educators, particularly those outside the bounds of the K-12 and university education systems, do not yet have the infrastructure to enable that same shift.
Virtual spaces conducive to continuing education need to be full stack communities that prioritize learners as key constituents. They must emphasize good design and offer collaborative features like peer encouragement and quality content recommendations, to really thrive.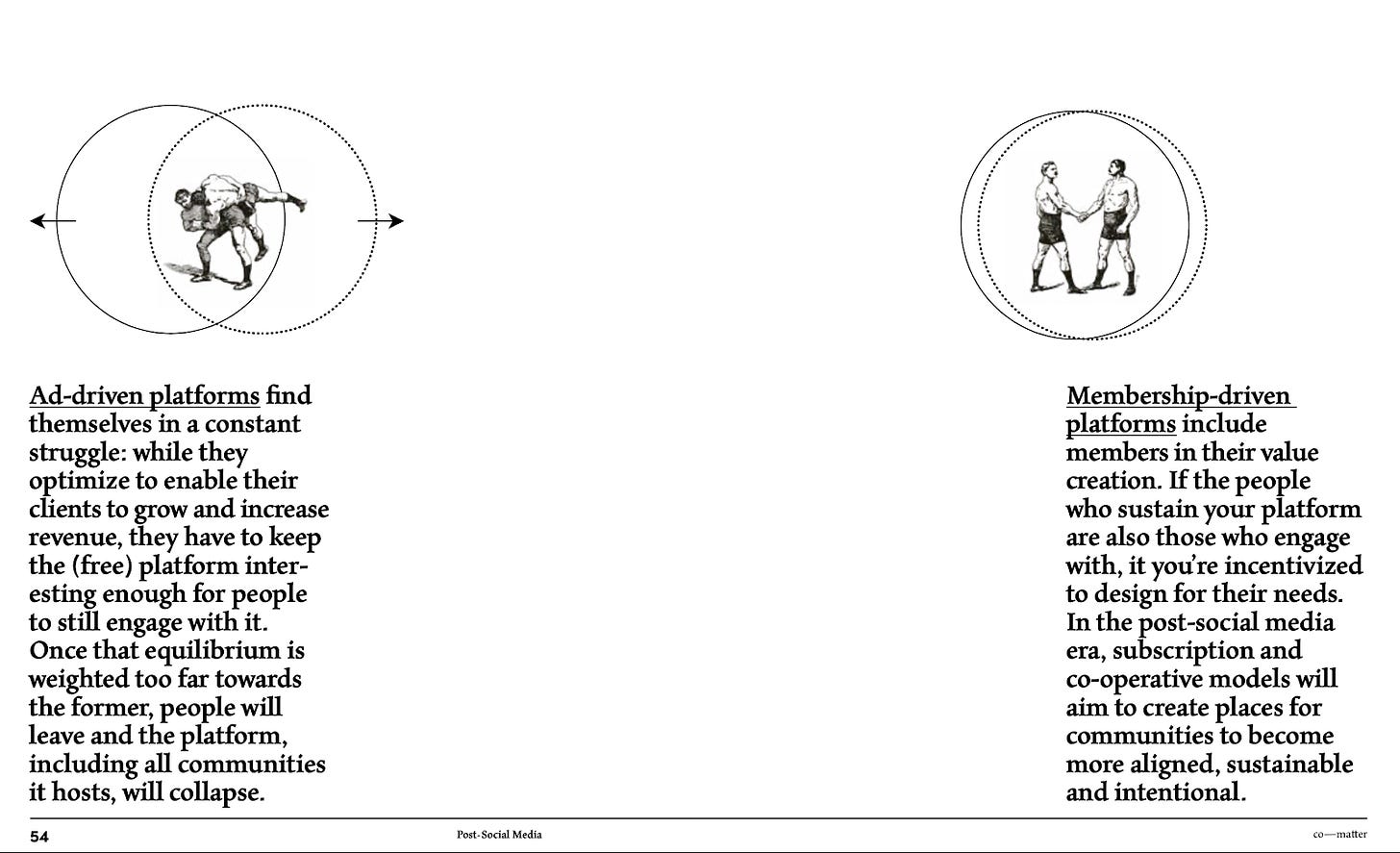 Graphic from Co—Matter
I collated all of the structured educational content I consumed this summer on my learning journey, and found educational content I consumed on a subscription, or ongoing, basis, had a uniformly strong content creator (newsletters, podcasts, magazines). With books, I was more willing to take a gamble on the creator for the sake of learning. Consistent with the dismal completion statistics for MOOCs (massive open online courses), I only finished classes when they were created by a strong educator, or I had a professional incentive to complete them.
I learned that educators were able to motivate me to purchase, complete, or subscribe to content. I engaged with these educators in different ways, mostly through social media and seeing their friendly correspondence in my inbox. Through these touchpoints, they became familiar, which drove me to become a loyal customer.
Idols became friends. It means nothing to buy face cream. But to buy face cream from Gwyneth Paltrow? - The Generalist, Audience and Wealth
Self-Study Courses & Key Notes
Note: If there were a dropdown list here, it would allow you to optionally dig into or hide this section. Read through if you are interested in key learnings from some of the educational resources I found valuable (all publicly available), and skip to the next section if you aren't.
Stanford: Spring 2020 - Social Computing taught by Michael Bernstein 
All of the lectures are in the link above. They are incredibly interesting and timely. 
Abstract: Social computing design is an exploration of how to fashion online communities in order to support the participants in achieving their goals.
The slide below, Almost Wikipedia, from Lecture 2, answered a question I'd had about Reddit: Why did Reddit become a dominant platform when so many similar platforms exist(ed)? The class asks the same about Wikipedia, and talks about why it succeeded. The answer was: Wikipedia is a sociotechnical system (the interplay of technology and people drives it), reliant on an individual's intrinsic and extrinsic motivation to post, social factors like positive natural social reciprocity loops, and platform standards like community moderation.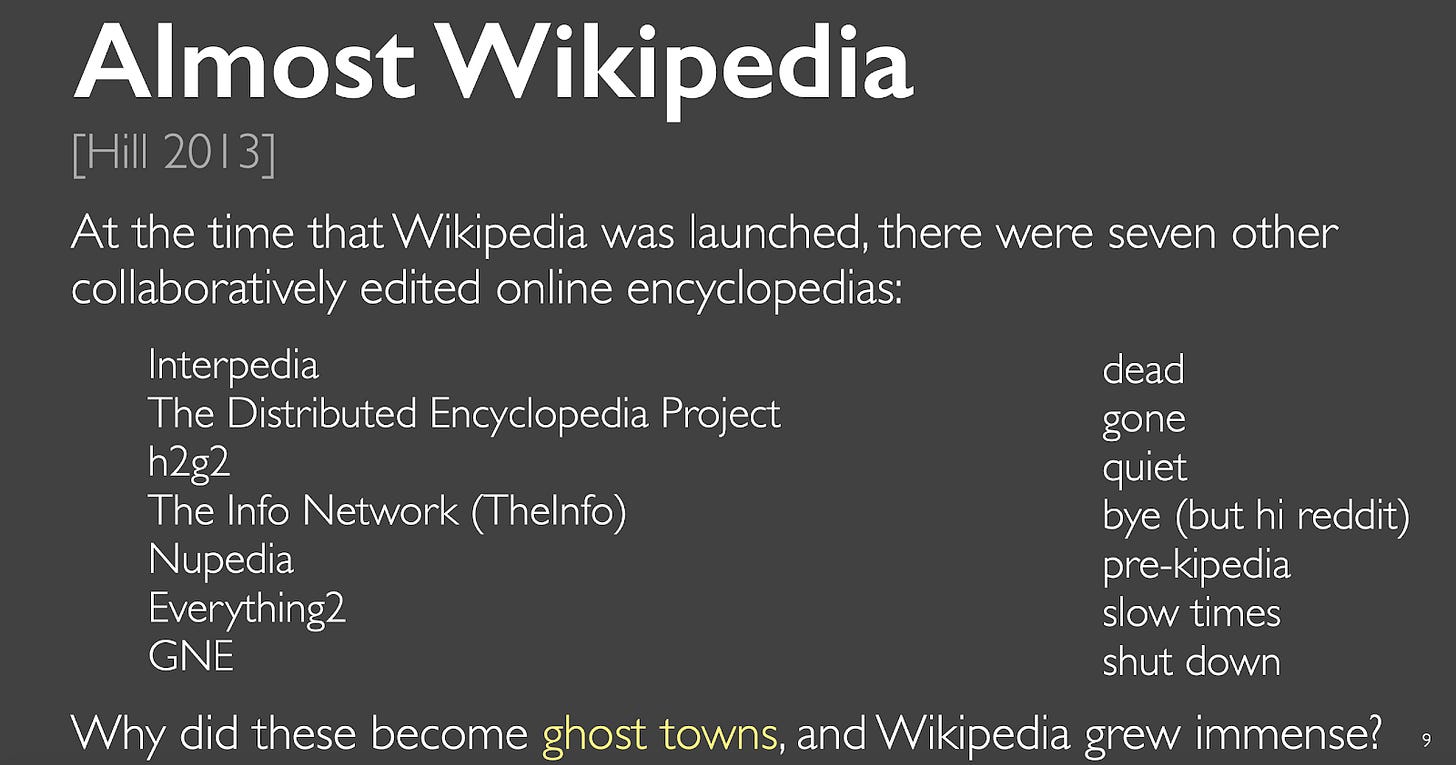 Stanford: Fall 2020 - Technology, Innovation, and Modern War taught by Steve Blank
Abstract: This course is focused on the implications of the US potentially falling behind amidst a technology transition. It details necessary operational change in today's national security and sociopolitical environment.
Today, the Department of Defense can't create doctrine, new operational concepts and new organizational structures against new technology and new types of warfare fast enough. Therefore, the purpose of this class – how to think about it systematically.
I loved this slide: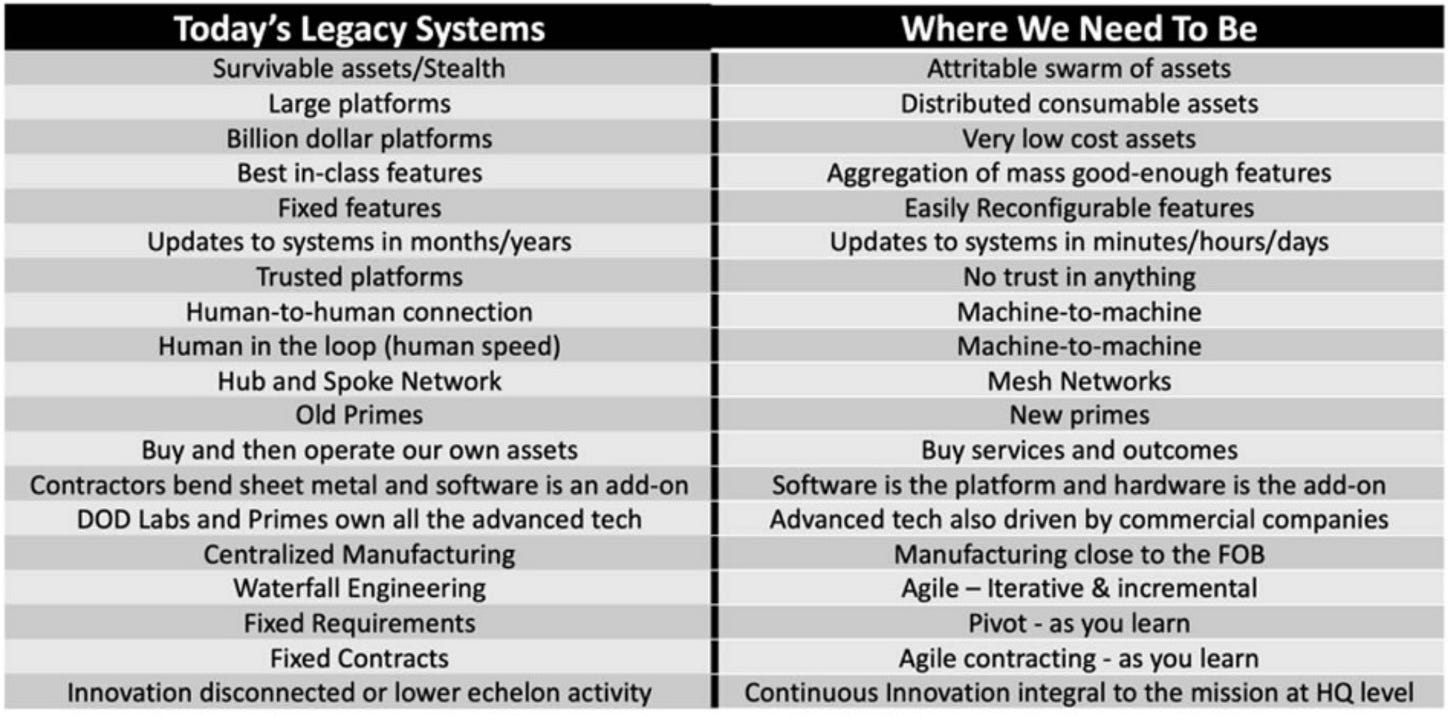 Georgetown: Summer 2020 - The Creator Institute taught by Eric Koester
Abstract: This course was designed to help students write and publish books. The group included a few hundred students, all bucketed into groups depending on book topic. I decided not to continue in this class, but gleaned some great insights from my professor and editor. 
When writing a piece that spans time, think of time as an accordion - you compress when you are not discussing important details, and expand when you are. 

In story writing - most stories can be broken down into seven basic plots: Overcoming the monster, rags to riches, the quest, voyage and return, the comedy, tragedy, rebirth. Guy Raz had noted a similar theme in stories, which drove him to start How I Built This.
In Closing
Though I had a valuable learning experience this summer, I found myself jumping between websites, applications, and email inboxes to fully engage in the various classes I took. Y Combinator's Requests for Startups from April 2020 includes two topics relevant to this discussion: education and supporting creators (see below). I believe that coupling the creativity of the most passionate educators with community-oriented technology will drive the future of continuing education.
Education. We're looking for ideas that combine technology and person-to-person interactions to deliver highly individualized educational experiences. 

Supporting Creators. The internet has made it easy to distribute creative work to millions of people, but no one has figured out how to help creatives make a sustainable living.
In my Creator Institute class, the professor discussed the science of 1000 true fans in the context of marketing our books. He said, "These people are not buying the work, they are buying the creator of it." The same is true for continuing education. Once educators are given the infrastructure, they will bring their own knowledge and personal brands directly to students.